Nanogel® Aerogel for Buildings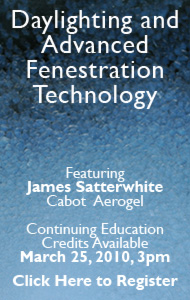 For those of you waiting to see aerogel actually commercialized for use in buildings one day, wait no more. Cabot Corporation, maker of Nanogel® aerogel, is already enabling some cool possibilities in architecture by introducing economical translucent superinsulating aerogel granules into skylights and windows. From buildings that look like glowing ice cubes to energy-saving daylighting, Nanogel is already finding uses in architecture projects around the world.
Interested in learning more about Nanogel? On Thursday, March 25, the Construction Specifications Institute will be hosting an online seminar with Cabot Corporation about Nanogel and how it is quickly being incorporated into buildings. Should be a good presentation, especially for architects and engineers interested in the thermal and optical properites of commercially-available aerogel materials.
Register for the seminar here. Continuing education credits for architects are available.
For those of you interested in actually getting your hands on some, you can experience Nanogel for yourself with product samples from BuyAerogel.com, along with other types of aerogel materials.